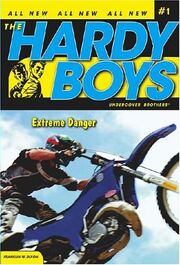 A list of events in 2005 related to The Hardy Boys.
January
February
March
22 First Season of the 1977 The Hardy Boys Nancy Drew Mysteries series is released on DVD.
April
5 - The longest running series in Hardy history, The Hardy Boys, was discontinued after 78 years and #190 volumes, with the publication of #190 Motorcross Madness
21 - Grosset & Dunlap republished volumes 59 to 66 of The Hardy Boys series, in hardcover format.
A new Hardy Boys series was launched with the publication of The Hardy Boys Undercover Brothers #1 Extreme Danger, #2 Running on Fumes, #3 Boardwalk Bust, and #4 Thrill Ride. The first four books hit bookstore shelves in Canada and the United States in mid-April even though the publication dates on the copyright pages of the books list a June 2005 publication date.
May
Release of The Ocean of Osyria in trade paperback and hardcover format. This book collects the 3-comic book series that ran from November 2004-January 2005.
June
July
August
The fifth book in the new Hardy Boys Undercover Brothers, Rocky Road was released.
September
October
The Hardy Boys Undercover Brothers #6 Burned released.
November
December
Community content is available under
CC-BY-SA
unless otherwise noted.