This in-universe article refers to events in more then one continuity

Please split this article into separate articles for each continuity the subject matter appears in. See The Hardy Boys Wiki's Manual of Style for more information.
| | |
| --- | --- |
| | This article is written from an out of universe point of veiw. |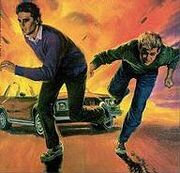 History
Iola Morton was Joe's girlfriend in about every series but the Casefiles. In the Casefiles she is killed by a bomb meant for Frank and Joe. Her death seriously affected Joe and he was grave and quiet after her death for a long time.
Description
She is described as Chet 's sister and has dark hair, with a pixie like face. She kept a very detailed diary and liked sending audio tapes to friends instead of writing letters. However, in the Hardy Boys Undercover Brothers series, she is alive and well and was Joe's girlfriend in Ocean of Osyria. She was working at Phil's Phries and Phranks to pay for a trip to Montreal in Murder at the Mall.
Novels
Television