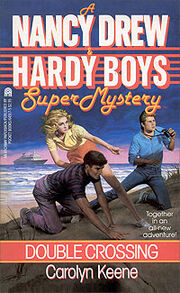 The Nancy Drew and Hardy Boys SuperMystery[1], is a series of novels that feature both the Hardy boys, and fellow Stratemeyer Syndicate character Nancy Drew. The first book in the series, Double Crossing was published in June of 1988; the series was discontinued in April 1998, with the publication of volume 36, Process of Elimination.
Unlike other Nancy Drew/Hardy Boys crossovers, this series was not written using both the Carolyn Keene and Franklin W. Dixon pseudonyms, but only using the Carolyn Keene name.
List of titles
Unpublished titles
The Playhouse Mystery was a planned but never released 37th volume to this series. It is unknown whether a manuscript actually exists, or if there is only a plot outline.[2]
There was an ISBN number for SuperMystery #38, but nothing else is known about it.
See also
References
↑ In 2007, with the debut of the Nancy Drew and the Hardy Boys Super Mystery series, the majority of fans started to call this series Nancy Drew and Hardy Boys SuperMystery '88 and the 2007 series Nancy Drew and Hardy Boys Super Mystery '07 in order to cut down on confusion when talking about the seperate series
External links
Community content is available under
CC-BY-SA
unless otherwise noted.