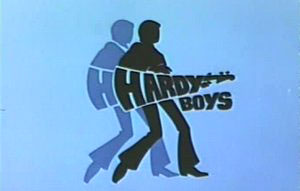 The Hardy Boys is an animated television series based on the novel series of the same name. It was produced by Filmation Associates and aired on ABC from between 1969 and 1971.
In this series the Hardy boys are members of a rock band that also includes Chubby Morton, Pete Jones, and Wanda Kay Breckenridge. The band travels around the country in a colorful old Rolls Royce Silver Ghost.
Episodes
Notes
According to Wikipedia's entry for the cartoon series, Season 2 was entirely a rerun of Season 1.
http://en.wikipedia.org/wiki/The_Hardy_Boys_(1969_TV_series)
For the three episode segments listed as "Unknown", after culling a number of sources, it seems that these are the missing titles- "Footprints Under the Window", "The Phantom Freighter" and "A Figure in Hiding". However, it is not known exactly where they aired and how they were paired up. The first issue of the Gold Key comic book series based on the cartoon adapts "Footprints Under the Window" as the first story, so it seems likely this one may be the first episode. See link for further information- http://www.hardyboyscasefiles.com/forums/index.php?topic=1815.msg59417#msg59417
Cast
Byron Kane as Frank Hardy, Pete Jones, and Fenton Hardy.
Dal McKennon as Joe Hardy and Chubby Morton.
Jane Webb as Wanda Kay Breckenridge and Aunt Gertrude.
Community content is available under
CC-BY-SA
unless otherwise noted.