Welcome to The Hardy Boys Wiki
When there's trouble brewing in Bayport, brothers Frank and Joe Hardy have what it takes to solve the case. Smart and resourceful, perceptive and clever, their brains are their go-to technology. Frank and Joe are no strangers to danger and suspense, and with their wits and their courage, they can be counted on to crack the case.
Join the Hardy Boys for mystery-solving action!
2020 television series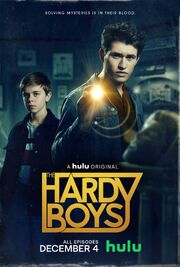 After a family tragedy strikes, Frank Hardy, 16, and his brother Joe, 12, are forced to move from the big city to their parent's hometown of Bridgeport for the summer. Staying with their Aunt Trudy, Frank and Joe's quiet summer quickly comes to a halt when they discover their dad, detective Fenton Hardy has taken on a secret investigation. Realizing that their Dad may be onto something the boys take it upon themselves to start an investigation of their own, and suddenly everyone in town is a suspect.
The Hardy Boys premiered on Hulu on December 4, 2020.
The Hardy Boys
Series

Hardy Boys Secret Files

Hardy Boys Clue Book

Crossover series

Characters
Friends of The Hardy Boys Wiki
The Hardy Boys Mystery Stories, Hardy Boys Undercover Brothers, and all related trademarks are copyright Simon & Schuster, Inc.