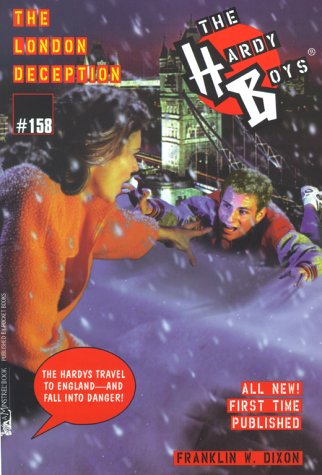 The London Deception is the 158th book in The Hardy Boys series. It was first published in September 1999 by Minstrel Books (an imprint of Simon & Schuster).
Back cover summary
Stage fright takes on a whole new meaning when the Hardys go behind the scenes.
While on a student-exchange program in England, Frank and Joe help out with the dress rehersal for a new murder-mystery play. But suddenly Joe is nearly cooked by exploding stage lights! An accident? Maybe. But when "accidents" start happening all over the production, a real mystery is in the air.
Rumors are flying about the spirit of an actress who died in the theater one hundred years ago. Could the culprit be a vengeful gost? Or is this the work of something -- or someone -- a little too close to this world for comfort?[2]
Appearances
Characters
Locations
to be added.
Businesses and organizations
to be added.
Other
to be added.
References
Community content is available under
CC-BY-SA
unless otherwise noted.