"What bone-chilling mystery lies buried in the deep, dark cavern, underground"
— Tag-line, from 1989 printing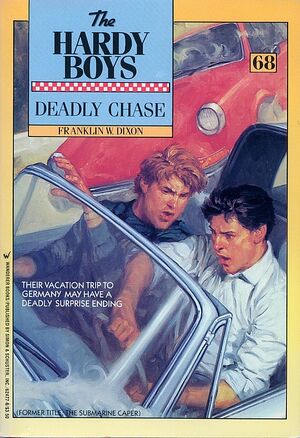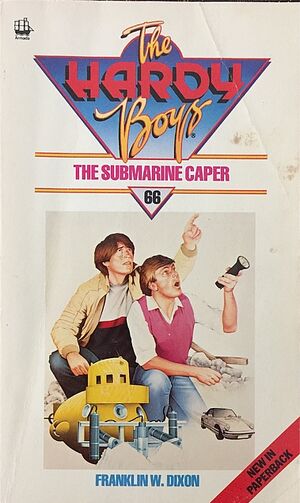 The Submarine Caper is the 68th book in The Hardy Boys series. It was first published in 1981 by Wanderer Books, and republished in 1987 by Wanderer Books under the new name of Deadly Chase. Minstrel Books republished the book (as Deadly Chase) in July 1989. The Deadly Chase went out of print sometime in the mid-1990's, and has not been reprinted, either physical or digitally, since.
Plot summary
Frank and Joe Hardy are in Germany, to visit an investigative reporter, named Gerhard Stolz, who has asked for their help following-up some leads. The plans of a top-secret mini submarine have been stolen, and a collection of long-lost paintings, just recently rediscovered, have also gone missing.
It's up to the Hardy Boys to uncover the truth, but after a deadly high-speed chase down the Autobahn and nearly getting killed in the mini-sub, they soon come to realize that two mysteries may be more than they can handle.
Appearances
Characters
Locations
Businesses and organizations
Other
Trivia
Conrad Fuchs wrote the original manuscript of this story in German. It was then translated by Lilo Wuenn.[1]
Because of the time that this book was written (1981), the Hardy's were actually in West Germany. However, while there is no mention of East Germany in the book, there are dates and ages mentioned, such as how long it has been since World War II, and as such, this book is set during the 1980's when Germany was still divided into West and East.
According to the back cover of the 1989 edition, The Submarine Caper/Deadly Chase has a Reading Level of 5.6. That implies that the book is written on a level appropriate for an average reader mid-way through 5th grade.
References
↑ 1.0 1.1 1.2 Who Wrote the Hardy Boys? at Keeline.com
Community content is available under
CC-BY-SA
unless otherwise noted.